WHEN TODD REUNITES WITH A CHILDHOOD FRIEND WITH A CHECKERED PAST, HE CONVINCES MARGARET TO REPRESENT HIM IN A MINOR LEGAL CASE, ON "SO HELP ME TODD," WEDNESDAY, NOV. 16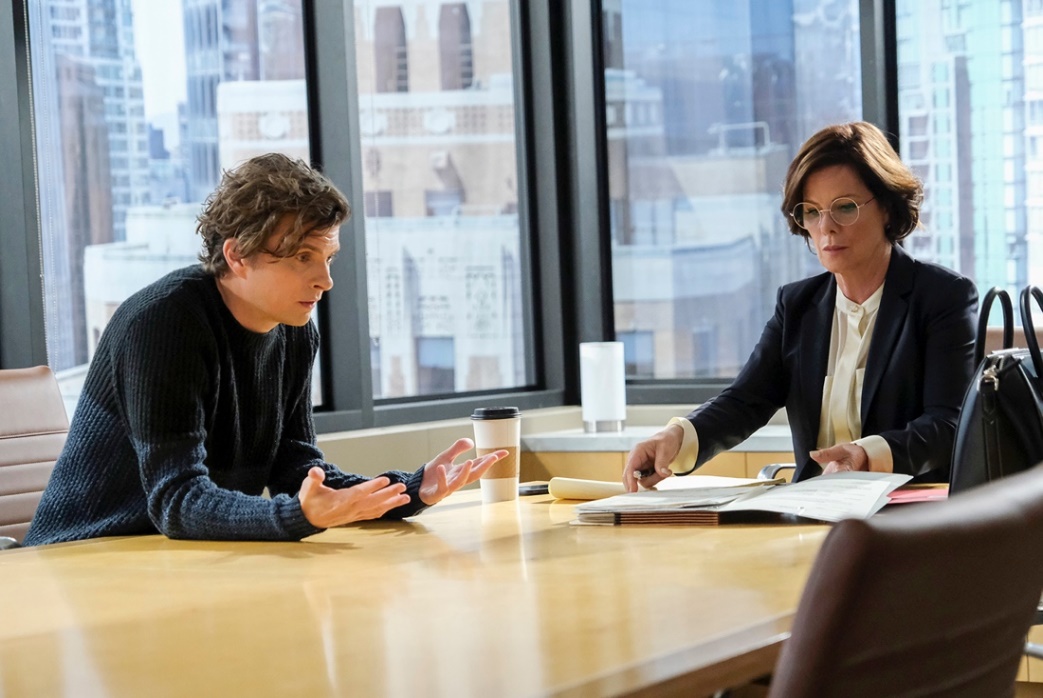 "Second Second Chance" – When Todd reunites with a childhood friend with a checkered past, he convinces Margaret to represent him in a minor legal case, on the new CBS Original drama SO HELP ME TODD, Wednesday, Nov. 16 (9:01-10:00 PM, ET/PT) on the CBS Television Network, and available to stream live and on demand on Paramount+. Originally aired Thursday, 10/13/22.
REGULAR CAST:
| | |
| --- | --- |
| Marcia Gay Harden | (Margaret) |
| Skylar Astin | (Todd) |
| Madeline Wise | (Allison) |
| Tristen J. Winger | (Lyle) |
| Inga Schlingmann | (Susan) |
| Rosa Arredondo | (Francey) |
GUEST CAST:
Clayton James

(Chuck Grant)

Thomas Cadrot

(Chet)

Lydia Campbell

(Kate)

Matthew Sears

(Elliot)

Erik Knudsen

(Brian McAtee)

Andrew J. Hampton

(Derek)

Shawn Richard

Jeremy Gimenez

Cruze McKinnon

Paul McGillion

Julie Howgate

Camille Mitchell

Frank Crudele

Bobby L. Dupree

Matt Afonso

Greg Kean

Karen Khunkhun

Nikki Chohan

Matthew Mandzij

Sarah Hayward

(Will)

(Johnny McAtee)

(Danny McAtee)

(Trevor Rapp)

(Erica)

(Desiree)

(Jerry)

(Judge Dupree)

(Grady Tibbels)

(Ray McAtee)

(Reporter)

(Police Officer #1)

(Police Officer #2)

(Mrs. Garrison)
WRITTEN BY: Lisa Kyonga Parsons
DIRECTED BY: Robert Duncan McNeill
GENRE: Drama
*Paramount+ Premium subscribers will have access to stream live via the live feed of their local CBS affiliate on the service as well as on-demand. Essential tier subscribers will have access to on-demand the day after the episode airs.
Website: https://www.cbs.com/shows/so-help-me-todd/
Twitter: https://twitter.com/SoHelpMeCBS
Instagram: @sohelpmecbs
CBS Twitter: https://twitter.com/CBSTweet
Cast and crew on social:
Twitter

Instagram

Marcia Gay Harden

@MGH_8

@mgh_8

Skylar Astin

@skylarastin

@skylarastin

Madeline Wise

@wise_dumb

Tristen J. Winger

@TristenJWinger

@tristenjwinger

Inga Schlingmann

@ingaschlingmann

Rosa Arrendondo

Scott Prendergast

Elizabeth Klaviter

@scottythep

@ElizabethKlav

@rosaevangyarredondo

@scottpprendergast