WHEN A NAVAL OFFICER IS MURDERED WHILE MOONLIGHTING IN COMMUNITY THEATER, THE NCIS TEAM ENLISTS THE HELP OF A FAMILIAR FACE, CHARLIE-1, ON "NCIS: HAWAI'I," MONDAY, NOV. 21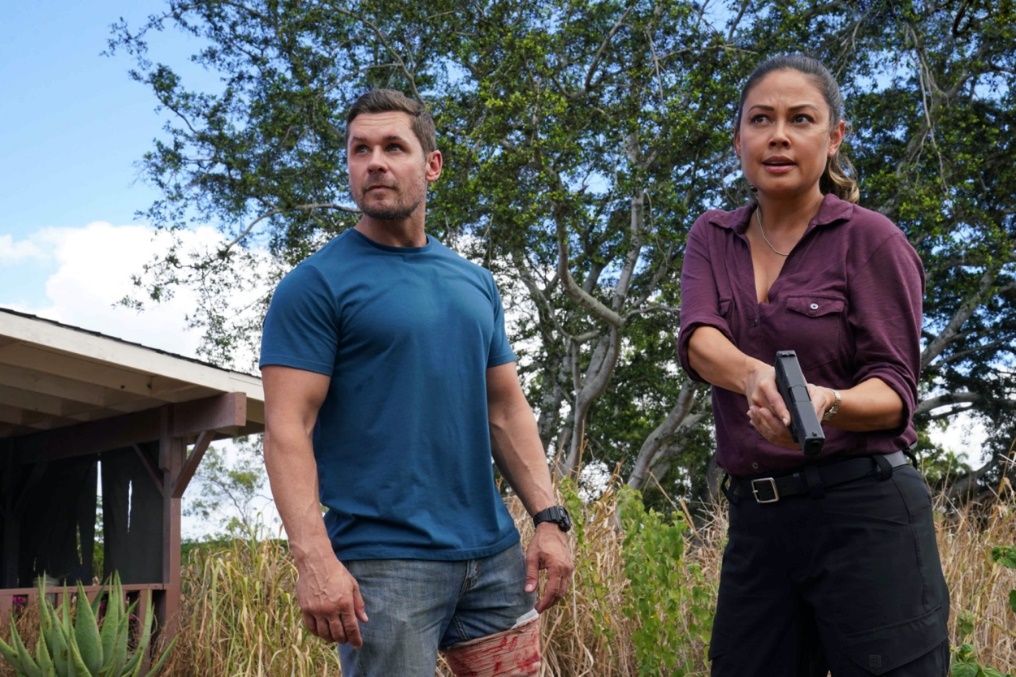 Linc Hand Returns as Charlie-1
"Curtain Call" – When a naval officer is murdered while moonlighting in community theater, the NCIS team recruits a familiar face to help lead them to a ruthless international killer. Also, Kai enlists Whistler to open an investigation into an old friend turned criminal, on the CBS Original series NCIS: HAWAI'I, Monday, Nov. 21 (10:00-11:00 PM, ET/PT) on the CBS Television Network, and available to stream live and on demand on Paramount+. Linc Hand returns as Charlie-1.
REGULAR CAST:
| | |
| --- | --- |
| Vanessa Lachey | (Special Agent in Charge Jane Tennant) |
| Alex Tarrant | (Kai Holman) |
| Noah Mills | (Jesse Boone) |
| Yasmine Al-Bustami | (Lucy Tara) |
| Jason Antoon | (Ernie Malik) |
| Tori Anderson | (Kate Whistler) |
| Kian Talan | (Alex Tennant) |
GUEST CAST:
Sierra Swartz

Linc Hand

Alicia Kaori

Moku Durant

Aleksandr Ivan Pevec

Don Hahaku

Danny Kang

Elena Evangelo

Adam Karst

Charlie Hudson III

Catherine Ann Restivo

Carolyn Samuelson

Anastasia Edwards

Tyler Kealakai

Sara Savusa

(Cassandra)

(Charlie 1)

(Emma Rose)

(Frederick)

(Petty Officer Kendall Wells)

(Tran)

(Special Agent Alan Lem)

(Janice Motts)

(Harom)

(Duggy Atwater)

(Mabel's Sister #1)

(Mabel's Sister #2)

(Mabel's Sister #3)

(Mabel's Sister #4)

(Mabel's Sister #5)
WRITTEN BY: Yakira Chambers
DIRECTED BY: Christine Moore
GENRE: Drama, Crime, Mystery
Official CBS website: https://www.cbs.com/shows/ncis-hawaii/
*Paramount+ Premium subscribers will have access to stream live via the live feed of their local CBS affiliate on the service as well as on-demand. Essential tier subscribers will have access to on-demand the day after the episode airs.
Facebook: https://www.facebook.com/NCISHawaiiCBS/
Twitter: https://twitter.com/NCISHawaiiCBS
Instagram: @NCISHawaiiCBS
CBS Instagram: https://www.instagram.com/cbstv
CBS Twitter: https://twitter.com/cbs
CBS PR Twitter: https://twitter.com/CBSTweet
CBS TikTok: https://www.tiktok.com/@cbs
Cast and crew on social:
| | | |
| --- | --- | --- |
| | Twitter | Instagram |
| Vanessa Lachey | @VanessaLachey | @vanessalachey |
| Alex Tarrant | | |
| Noah Mills | @Noah_live | @noahmills |
| Yasmine Al-Bustami | @yasalbustami | @yasalbustami |
| Jason Antoon | @jasonantoon | @jasonantoon |
| Tori Anderson | @torianderson | @Tortorra_ |
| Kian Talan | @kiantalan | @kian.talan |