Funny show and this looks like a good episode! Don't miss it Tuesday night 2/28 8:30pm on NBC! And also available streaming on Peacock…
"AMERICAN AUTO"
"THE LETTER"
ORIGINAL
02/28/2023 (08:30PM – 09:00PM) (Tuesday) : Katherine has to go on a "listening tour" after a group of younger employees demand the company stop contributing to pro-life politicians. The men of the office are charged with writing Payne's policies regarding abortion.
TV-PG
American Auto
Tuesdays on NBC (8:30-9 p.m. ET); Season Premiere: Jan. 24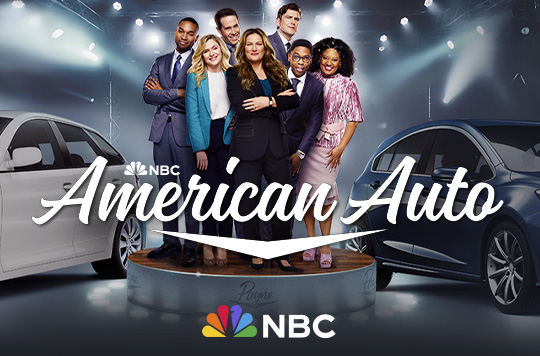 From the creator of "Superstore" comes a new workplace comedy that takes the wheels off the automobile industry. Set in Detroit, the corporate executives of Payne Motors are at a crossroads: adapt to the changing times or be sent to the junkyard. Shaking things up is the new CEO, whose leadership, experience and savvy is only slightly offset by her complete lack of knowledge about cars. Luckily, her team has some of the best minds in the business – when they aren't fighting or trying to outwit each other. From the corporate office to the factory floor, the crew of Payne Motors is driving home the laughs.
The cast includes Ana Gasteyer, Harriet Dyer, Jon Barinholtz, Humphrey Ker, Michael B. Washington, Tye White and X Mayo.
Justin Spitzer ("Superstore") will write and executive produce. Jeff Blitz will direct and executive produce the pilot episode. Aaron Kaplan and Dana Honor will executive produce.
"American Auto" is produced by Universal Television, a division of Universal Studio Group, in association with Spitzer Holding Company, Kapital Entertainment.
Follow Us!